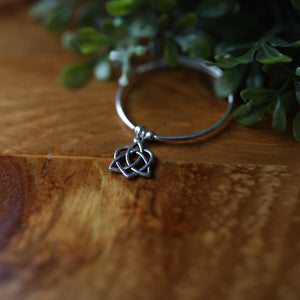 Handmade silver tone wrap bracelet with a silver tone triquetra heart charm in the center.

Note: The triquetra charm bracelet is  truly one size fits all - don't be afraid to bend the tubes for a tighter or looser fit.
The Trinity Knot, or the Celtic Triangle (other names for the Triquetra symbol), represents the idea that everything important in the world comes in threes such as past, present, and future, or mind, body and soul.