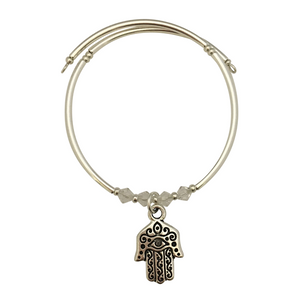 Handmade silver tone wrap bracelet with a large Hamsa charm positioned in the center surrounded by crystals. 
Note: These bracelets are truly one size fits all - don't be afraid to gently bend the bracelets at the joints for a tighter or looser fit.
The Hamsa (also referred to as the Hamsa Hand), is a symbol of protection (from the evil eye) and brings the wearer good luck and prosperity.